Hit Me! Baccarat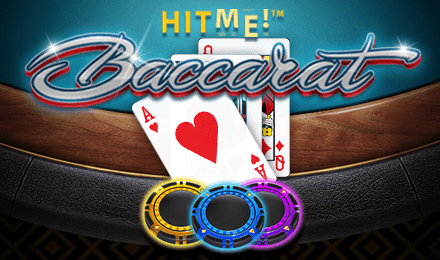 Hit Me! Baccarat
Hit Me! Baccarat is a new casino classic with a twist, designed by Eyecon! Since the evolution of online casinos, different sequels of this casino classic have been launched, but this is Vegas Spins Casino's new favourite! Launch the casino card game on your mobile, desktop or tablet and enjoy!
Top Features
Eyecon
Table & Card Game
Autoplay
How to Play
Before you initiate your gameplay of Hit Me! Baccarat, click on the chip values to select your stakes. After that, click then drag your chips to the position you would like to place your bet on at the table. To select another chip value, click on the "X" button. The "Clear All" button allows you to clear all bets you have placed.
Bet Levels:
None available.
Amount of Paylines Selection:
Not present.
Coin Values:
Chip values range from £1, £2, £5, £10 to £25.
Bonus Rounds
Each hand of the game starts off with two cards and the third card can be Split. In total, there are six decks of cards on the table. The gameplay is simple, all you need is a hand that is close to nine to win. Ace cards are counted as 1 and face cards are counted as 0. Pays of Hit Me! Baccarat are as follows:
Player Pays- 1:1
Banker Pays- 1:1
Tie Pays- 9:1
Minimum Pays- 1.5:1
Maximum Pays- 21:1

FAQ
Getting Started
Contact Us