Live Rocket Roulette Slots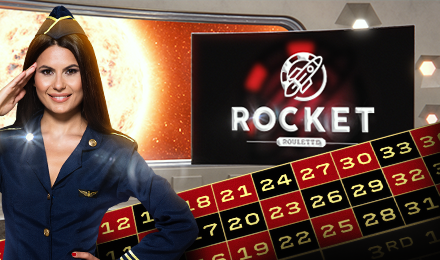 Live Rocket Roulette
Created by NetEnt, Live Rocket Roulette is high-paced roulette, which will give you the adrenaline rush. This game is the fastest roulette game ever as you only have 10 seconds to place your bet! So, are you ready? Play this top-notch casino game at Vegas Spins anytime!
Top Features
Quick Gameplay
Live Roulette
94.74% RTP
How to Play
To begin your gameplay, you first have to select your stake from the bet field. Once your stake has been placed, you just have to click on your preferred spot of the table. By clicking continuously on the bet tab, further chips will be added and your stake will be higher. You'll have only 10 seconds to place your bet, thus you have to be quick.
There are few options on the display to make your gameplay easier. To clear your last bet, you can click on Undo and to clear all the bets from the table, you just need to click on Clear All Bets. To save your favourite bet for the next game, you can click on Star. And, you can even double your stakes.
Bet Levels:
The game does not consist of the Bet Levels.
Amount of Paylines Selection:
No paylines are to be found on this game.
Coin Values:
You can select chips which are valued from £0.50 to £100.00.
Bonus Rounds
Just like any games of roulette, your aim is to correctly predict on which number the ball will land once the spin of the wheel is completed. The numbers you can bet on range from 0 to 36. You can choose from three types of stakes which are:
Inside Bets: Six Lines, Street, Corner, Split or Straight.
Outside Bets: Odd or Even, Red or Black, Column, Dozen, 1-18 or 19-36.
Neighbour Bets: Tiers, Orphelins, Jeu Zero or Voisins.

FAQ
Getting Started
Contact Us