Instant Football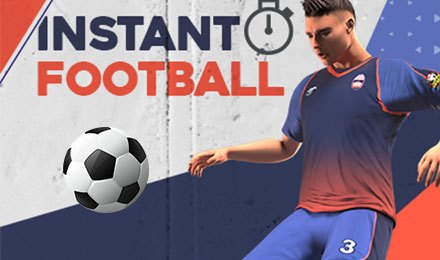 Instant Football
Instant Football is an exciting game that was developed by Leap Gaming a cutting-edge software developer. On this top-notch game, you can expect a tailored experience on your mobile, tablet or desktop. Betting on Instant football is the same as betting on a real football match. The plus factor is, the outcomes on Instant Football are determined by RNG. This implies that all the matches are on demand and you can watch them whenever you choose. It provides an on-demand football experience with a bunch of fast-paced betting options and realistic animated action.
Top Features
Single- Double Chance
Single- Half-Time Result
Single- Under/Over Total Goals
Single- Under/Over Total Goals
How to Play
Kickstart your football session on Instant Football, make sure to choose your teams and select your bet amount. After you've selected a bet and your odds, it will automatically appear on your betting slip. Click "Start Match" to load the game and let the games begin. You can click on "Go to Outcome" to find the end results. You'll have the choice to Rebet or Rebet X2. Or go to the "Next Match."
Bet Levels:
On this instant game there are no Bet Levels.
Amount of Paylines Selection:
There are no paylines on Instant Football.
Coin Values:
There are no coin values, instead you'll find the bet values.
Bonus Rounds
Single-Full-Time Exact Score
You'll win this bet if you correctly predict the exact score of the match.
Single- Match Total Goals
On Instant Football you will have to correctly forecast the total number of goals scored by both teams during the match.
Single- Asian Handicap
In this popular bet, one team is the favourite to win by a certain number of goals. This is known as the handicap. Considering and following the handicap, the bet is a straight bet based on the outcome of the match. It's either on a home win or an away win.
Single- Under/Over Total Goals
This type of bet involves betting on a number of goals which happens during the match. Your betting whether the final number of goals will be over or under the line set beforehand by the book.

FAQ
Getting Started
Contact Us