Joker Strike Slots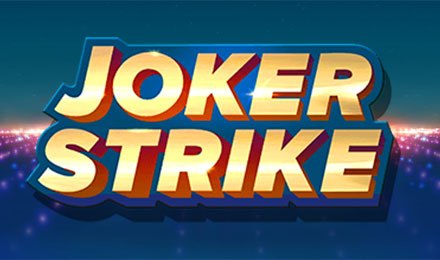 Joker Strike Slots
Joker Striker Slot is an easy and entertaining slot machine with 5-reels and 10 paylines. It was created by Quickspin and is compatible on mobile, tablet or desktop. On this simple and exciting game, the outer wheel will activate with every win. Keep an eye on the lights and as they stop, you'll benefit from a strike with more symbols added to the reels of Joker Striker Slot for extra wilds. Seize the chance of creating a winning combo with extra wilds landing for whopping wins.
Top Features
Joker Strike Feature
Hi Roller Mode
Hi Roller Features
How to Play
Start by choosing your total bets to get you into the action. Click on the spin or AutoPlay button. The AutoPlay is a handy feature that lets you play online slots game faster. Select a number of plays: 10, 25, 50, 75, 100, 500 or 1000 and let the reels spin for chances of huge wins. You can explore the advanced setting to customise the AutoPlay feature. On the reels, you will find several symbols such as the joker, lucky 7, starts, bells, heart, spade, club and diamond.
Bet Levels:
There are no Bet levels on Joker Striker Slot.
Amount of Paylines Selection:
10 paylines.
Coin Values:
No coin values. The Bet values range from 0.10 to 100.00.
Bonus Rounds
Joker Striker Feature
The Joker Striker Feature is triggered on any symbol line win. It adds symbols to the reels if the outer wheel marker rest on a symbol from any launching line win. There's 6 to 10 additional symbols that will be added to the game from extra wins. In addition, the number of extra symbols is determined by the length of the longest paying line of that symbol.
3 of a kind for 6 extra symbols
4 of a kind for 8 extra symbols
5 of a kind for 10 extra symbols
Hi Roller Mode
The Hi Roller mode on this online slot will add to your game experience by adding additional features on top of the normal game. The game has 3 various modes to play and each is made up of 5 spins. The box for each mode will display what features will be available.
Hi Roller Features
There are 3 Hi Roller Features on Joker Striker Slot and they are as follow:
Guaranteed Wild: During each spin on Joker Striker Slot, a wild symbol is added to the reels by moving clockwise around the reels until they stop.
Wild Strike: Two wild symbols are added to the outer wheel of Joker Striker Slot.
Double Chance: An extra marker will spin on the outer wheel of the game. It will double your chances of hitting the Joker Striker Feature.
Wild Symbol: The Wild on Joker Striker Slot can replace all symbols. They are only found on the outer wheel in Hi Roller modes, comprising of the "Wild Strike" feature. A 5 of a kind win with a Wild is only possible during the Wild Strike Feature.

FAQ
Getting Started
Contact Us