Love Island Bonus Slots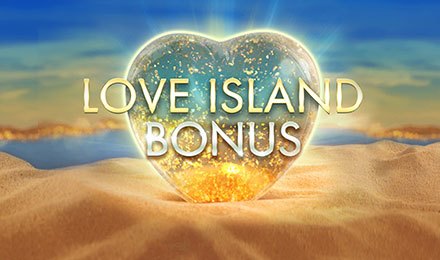 Love Island Bonus
Discover a wonderful island on Love Island Bonus at Vegas Spins! It is brought to you by IWG, consisting of a 5x5 grid. On this island, you can relax on the beach while admiring the colourful reflections created by the sun rays. When you feel like it, enjoy a good swim in the pristine waters. On the 5x5 grid, find symbols like: Red rose, Palm trees, Lips, Pound Sterling Sign, Note Stacks, Golden Bars, Stars and Slippers. Also, you can win a maximum jackpot of £500,000. Enjoy this exceptional game on a PC, mobile or tablet!
Top Features
Wheel Bonus
Diamond Bonus
Jackpot
How to Play
Start enjoying Love Island Bonus by adjusting your bet which is taken from the current stake. Next, press on the Play button to begin. Click on each Heart to reveal the symbols or press "Reveal All" to flip all of them. Enjoy the following 3 games:
Game 1: Uncover the winning symbol to win
Game 2: Match the 3 prize values to win a particular amount
Game 3: Matching 2 symbols in a column rewards you with the corresponding prize
For a maximum wager of £100, get the chance to win big.
Bet Levels:
Bet levels are not present.
Amount of Paylines Selection:
Paylines are not available.
Coin Values:
Choose your preferred bet value using the + and – buttons.
Bonus Rounds
Love Island Bonus comes with the bonus features below, thus creating more winning opportunities.
Wheel Bonus
Find the Chromosome symbol to enjoy the Wheel Bonus.
Diamond Bonus
Revealing the Diamond symbol activates the Diamond Bonus.
Make the most of Love Island Bonus at Vegas Spins and have lots of fun. Wish you good luck!

FAQ
Getting Started
Contact Us