Love Island Instant Cash Slots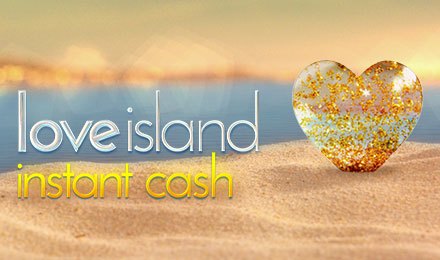 Love Island Instant Cash
How about another wave of instant win games on Vegas Spins? Connect to the awesome casino site to play this outstanding game based on the reality show, Love Island. You are proposed an entertaining gameplay with three different genres of mini games plus a Wheel for extra excitement! Watch out though, this incredible game can award up to an astounding amount of £250,000. Since it is going to be a beach themed game, why not grab your sun screens on the way?

Gorgeous visuals are to be encountered on the instant win game. The background is a focused view of sand dunes of the beach with the sea in the far distance. Bright colours and a cool looking theme is set on the game. Immerse in the exotic game. It will surely be worth your clicks!
Top Features
How to Play
Begin by placing your bet on Love Island Instant Cash and click on the Spin tab. As soon as you match a minimum of 3 symbols on the lines, you win. You can either make the fun last by revealing the prizes one at a time or press the Reveal All button to speed it up.
Bet Levels:
Love Island Instant Cash by Instant Win Gaming does not include any Bet Levels.
Amount of Paylines Selection:
Being an instant game, it does not involve any pay lines to determine wins.
Coin Values:
To begin playing Love Island Instant Cash, you will need to select the values of your stakes. By accessing the user interface, you can set the stake values from a minimum of £1 up to a maximum of £5.
Bonus Rounds
Game A
The games proposed on Love Island Instant Cash are quite straightforward. In this regard, Game A will offer you different symbols for instant gemstones, hashtag, gold bars, starts, slippers and mobile phones. To win, you will need to match two similar symbols in a column. You will then be awarded the displayed prize. On Game A of Love Island Instant Cash, you can win a maximum of £10,000.
Game B
You will be proposed different cash values from £1 to £100. To win this round, match three similar values to win the displayed prize.
Game C
In this round, players are offered numerous symbols like Mobile Phones, Lips, Cash and Gold Bars. To win, you will need to click and hope to reveal the Lucky Symbol. If you obtain the Lucky Wheel Symbol, you activate the Bonus Game.
Bonus Wheel
Behold the Wheel of Fortune of Love Island Instant Cash. Once you spin the wheel, it will stop on a section. The prize displayed will be rewarded to the player.

FAQ
Getting Started
Contact Us