Monopoly Slingo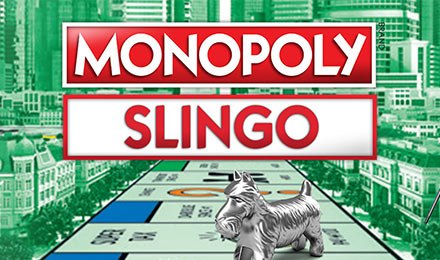 Monopoly Slingo
Get the fun times rolling on Monopoly Slingo, based on the popular Monopoly game. Monopoly Slingo from Slingo Originals regroups all the features of the classic board game. The grid is packed with property cards and you move around the board by rolling the dice. As you complete a Slingo, you get cash prizes and multipliers are applied to prizes in the win ladder. Land on all properties in a set for higher prizes.
Top Features
Joker
Chance/Community Chest
Properties
Slingo
How to Play
How to Play Text Monopoly Slingo starts when you choose your stakes. The game begins with 7 or 8 rolls to land on properties and remove them from the Slingo grid. Click on the start. When you land on a property, you mark off all cards of the exact colour. When you PASS GO, you add cash to the complimentary parking square. Once you land on the parking, you collect the accumulated cash. When you land on GO to jail brings players to jail. To escape the bars, roll a double or you'll be only released on the third failed try. Extra rolls are available when Monopoly Slingo comes to an end. The price is displayed on the button. Press the circular collect button to end the game. For more rolls or bigger and better prizes, select 1 of 4 games.
Bet Levels:
None.
Amount of Paylines Selection:
None.
Coin Values:
The minimum and maximum stakes are £0.20 and £0.25 respectively.
Bonus Rounds
JOKER:
Landing on a Joker while playing on Monopoly Slingo will randomly select a card from each property set. The cards are shuffled, and the player moves towards the property picked.
Feature 2 Chance/Community Chest:
When you get a chance or community chest card on Monopoly Slingo, a card is dealt randomly from the respective decks. With the chance and community chest cards you can be awarded a get out of jail card, cash prize, move around the board or go to jail.
Properties:
On Monopoly Slingo, properties equal to multipliers. You land on a set of properties to apply multipliers to all prizes in the win ladder.
Slingo:
It equals to cash on Monopoly Slingo. To remove a set of property cards from the grid, land on a property. When you complete Slingos you are awarded cash prizes.

FAQ
Getting Started
Contact Us