Wheely Wheely Big Win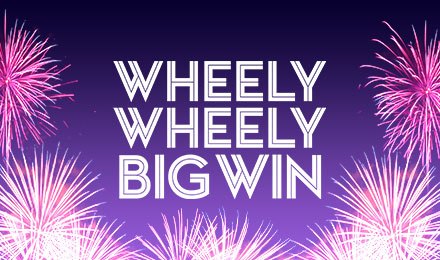 Wheely Wheely Big Win
Enjoy an exceptional game at Vegas Spins, called Wheely Wheely Big Win! It is an innovation by Gaming Realms. It is a highly entertaining combination of slot and casino game. In the centre of the game screen, find 2 wheels. Your goal is to trigger the potential win displayed in the centre of both wheels. Plunge into the purple backdrop, and enjoy a clean and minimalistic game which can quickly become your favourite! Launch it at Vegas Spins using a mobile or desktop device.
Top Features
Turbo
Repeat Bet
Re-spin
New Game
How to Play
Choose your stake on Wheely Wheely Big Win by clicking on the Stake button at the bottom of the screen. Use the left and right arrows to adjust the 2 wheels and determine how much of each wheel you want to play with. Some parts of the wheel are aligned with the arrows at the top, so the bigger the wheel segment is, the higher your winning potential can be. To increase the winning amount, simply choose a smaller wheel segment.
Once the wheels are adjusted, click on the Spin button. Make the wheel land between the arrows at the top of the screen. You can earn a big win if it lands on the chosen sections of both wheels on the arrow. Are you ready to enjoy this original game?
Bet Levels:
Bet levels are not present.
Amount of Paylines Selection:
Paylines are unavailable.
Coin Values:
The stakes vary from 50p to £100.
Bonus Rounds
Turbo
Do you want to go faster on Wheely Wheely Big Win? Click on the Turbo button to enjoy several rounds played in rapid succession.
Repeat Bet
Did you end up with a losing wheel? Not to worry, you can spin it again using the Repeat Bet option. It spins the wheel using the original bet.
Re-spin
You can also spin the losing wheel at a stake indicated on the Re-spin button.
New Game
Want to start anew? Click on New Game to launch a fresh game.
Play Wheely Wheely Big Win anytime at Vegas Spins and spend a wonderful time. Best of luck!

FAQ
Getting Started
Contact Us