Wild Bazaar Slots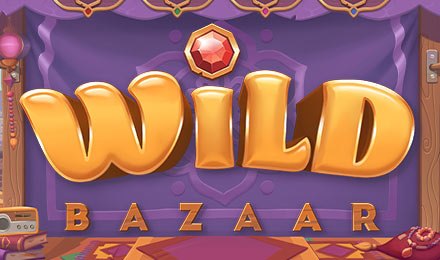 Wild Bazaar Slots
A drape opens to reveal a magnificent Slot called: Wild Bazaar! It is an exceptional creation created by no other than NetEnt. Peek over the 5 reels and 26 paylines of Wild Bazaar Slot and keep a watchful eye on its plethora of spellbinding symbols. There are four special wilds over here and they include the Stacked, Colossal, Linked and x2 Multiplier! These can boost our wins! Create an account on Vegas Spins and play via your iOS and Android devices anytime!
Top Features
Stacked Wilds
Colossal Wilds
Linked Wilds
Multiplier Wilds
How to Play
Hello! Are you ready to trigger the 4 Wild Spins Feature? They are all worth the detour and can benefit you with some potential mega wins. With the X2 Multiplier, you can win up to 390 times your stake during that spin. To get started, you can adjust your betting settings according to your likes. And during your adventure on Wild Bazaar Slot, you will a cascade of symbols such as the four coloured treasure chests and the panoply of jewels with their price tag.
Bet Levels:
You will find 1 to 10 Bet Levels on Wild Bazaar Slot.
Amount of Paylines Selection:
All the 26 Paylines are fixed on this sublime creation by top software maven NetEnt.
Coin Values:
The coin values include the following: 0.01, 0.02, 0.05, 0.10, 0.20, 0.50, 1.00 and 2.00.
Bonus Rounds
The bonus round on Wild Bazaar Slot is an interactive feature table. It shows all of the various wild combinations. Click on the colourful buttons and see the several wilds spins combinations. The wild spins feature interacts and it will cover the reels totally and gradually the more wilds are triggered.
Wild Symbol
The wild symbol on Wild Bazaar Slot can take the place of all the symbols on the reels. To launch one of the 4 wild spins features, you have to try to get 3 or more matching chest symbols that will crop up consecutively on a winning win line during the main game.
Wild Spins Feature
On Wild Bazaar Slot, this feature includes the Stacked Wilds, Colossal Wilds, Linked Wilds and Multiplier Wilds that is represented by the Red, Green, Pink and Blue treasure chest respectively. But how do they work? During the Stacked Wilds, the wilds will come into view in stacks of length 4. When the Colossal Wilds is launched, all the wilds will appear as 2x2 colossal symbols. On the other hands, when the Linked Wilds is triggered, the leftmost and rightmost wilds will make an appearance on the same horizontal row and all the symbols will be transformed between them into wilds. During the x2 Multiplier Wilds, all of your wins that includes at least a wild will be multiplied by 2.

FAQ
Getting Started
Contact Us